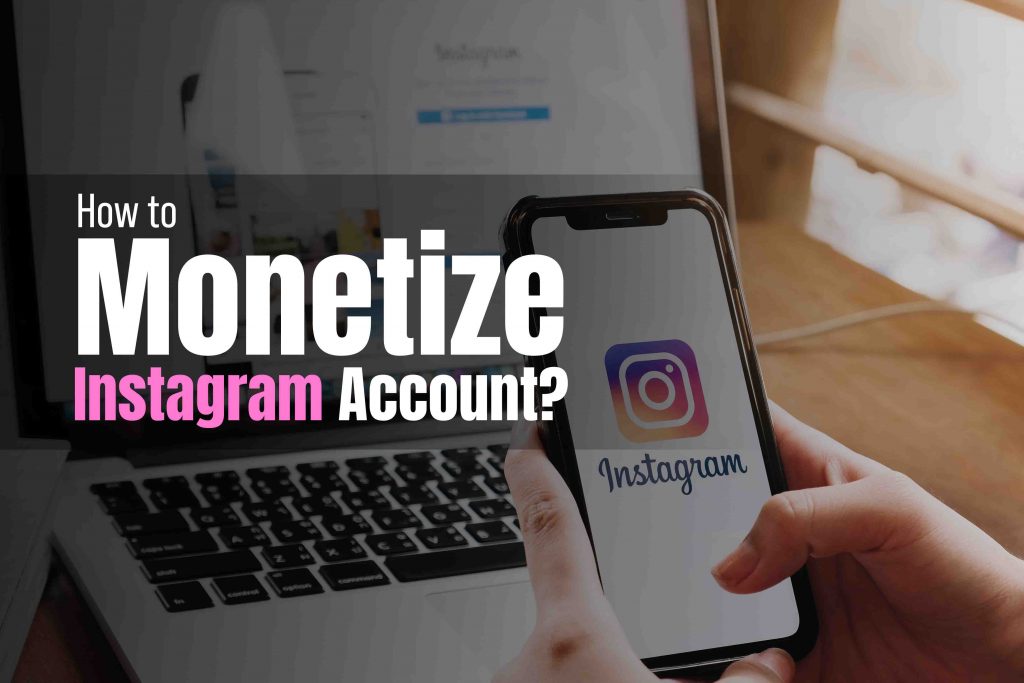 Instagram has quickly become one of the most popular social media platforms with over 1 billion monthly active users. With such a large user base, it's no surprise that many people are looking for ways to monetize their Instagram account.
There are a number of ways to make money on Instagram, but it's important to find the right method for you and your audience. In this article, we'll explore some of the most common methods for monetizing an Instagram account and help you decide which one is right for you.
Monetizing your account
There are a few ways that you can monetize your Instagram account. The first way is to become an affiliate for brands that you love and trust. To do this, you simply need to find brands that have an affiliate program, and then sign up for their program. Once you're accepted into the program, you'll be given a unique affiliate link that you can share with your followers. When someone clicks on your link and makes a purchase from the brand, you'll earn a commission on the sale.
Another way to monetize your Instagram account is to sell your own products or services. If you have a product or service that you think your followers would be interested in, you can promote it on your account and include a link to where they can purchase it. You can also promote products as an influencer for other companies. For example, if you're passionate about skincare, you could partner with a skincare company and promote their products on your account. In return, they may give you free products or pay you for each post that you make.
The last way to monetize your Instagram account is through sponsorships. If you have a large following, brands may be interested in paying you to promote their products or services on your account. You can also work with companies to create sponsored posts, where they'll pay you to post about their product or service in a positive light. To find sponsorships, you can reach out to companies directly or work with an influencer marketing agency.
No matter which method you choose, monetizing your Instagram account can be a great way to earn some extra income. Just be sure to stay true to your brand and only promote products or services that you believe
Why Instagram?
There are a number of reasons why Instagram is a great platform for monetization. Firstly, it has a very large user base with over 1 billion monthly active users. This means that there is a huge potential audience for your content. Secondly, Instagram is a very visual platform, which makes it ideal for promoting products and services. Finally, Instagram has a number of features that make it easy to monetize your account, such as the ability to post links to products and services in your bio, as well as run ads.
What Kind of Content will You Post?
When it comes to the content you post on your Instagram account, it is important to remember that quality is always better than quantity. It is better to post fewer photos and videos that are high-quality and engaging, rather than posting a large number of low-quality or uninteresting posts.
Some ideas for types of content you could post include: behind-the-scenes photos and videos, sneak peeks of new products or services, tips and tricks related to your niche, personal stories or anecdotes, user-generated content (such as photos or videos featuring your products or services), and more.
No matter what type of content you decide to post, make sure that it is interesting and engaging for your target audience. The more engaged your audience is with your content, the more likely they are to follow you and continue interacting with your brand.
Finding your niche
Finding your niche is essential to monetizing your Instagram account. You need to identify your target audience and what content they are interested in. Once you know this, you can start creating content that appeals to them and promoting products or services that they would be interested in.
There are a few ways to go about finding your niche. First, you can look at your own interests and see if there is a market for it on Instagram. If you love fashion, for example, you can start posting fashion-related content and promoting fashion brands.
Another way to find your niche is to look at what other successful Instagram accounts are doing. See what kind of content they are posting and what kind of products or services they are promoting. You can then use this information to create similar content for your own account.
Once you have found your niche, it is important to stick to it. Don't try to be everything to everyone – focus on creating content that appeals to your target audience. This will help you build a loyal following and make more sales in the long run.
Creating a brand
Creating a brand is one of the most important aspects of monetizing your Instagram account. Your brand is what will set you apart from the millions of other users on the platform. It's what will make people want to follow you, and it's what will make people want to buy from you.
When creating a brand for your Instagram account, you need to consider what kind of image you want to project. Are you a luxury brand? A lifestyle brand? A fitness brand? Once you've decided on your overall image, you need to start creating content that reflects that image.
Your photos should be high quality and consistent with the overall aesthetic you're going for. And your captions should be well written and engaging. If you can get people interested in what you're saying, they're more likely to stick around and follow you.
Building a strong brand takes time and effort, but it's worth it if you want to monetize your Instagram account successfully.
Conclusion
As you can see, there are many ways to monetize your Instagram account. By finding your niche, creating a brand, and posting engaging content, you can attract followers and turn your account into a money-making machine. So what are you waiting for? Start building your empire today!