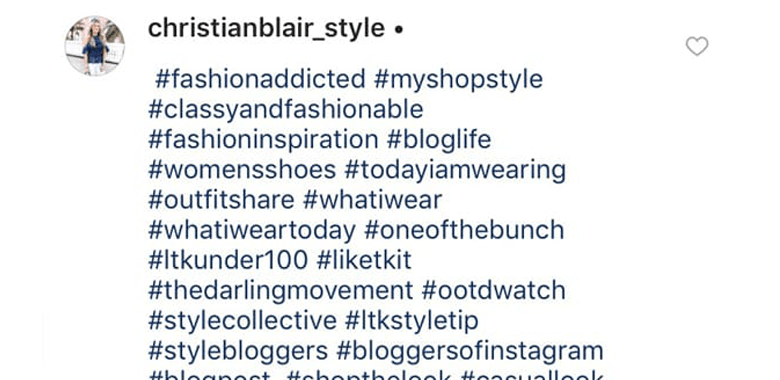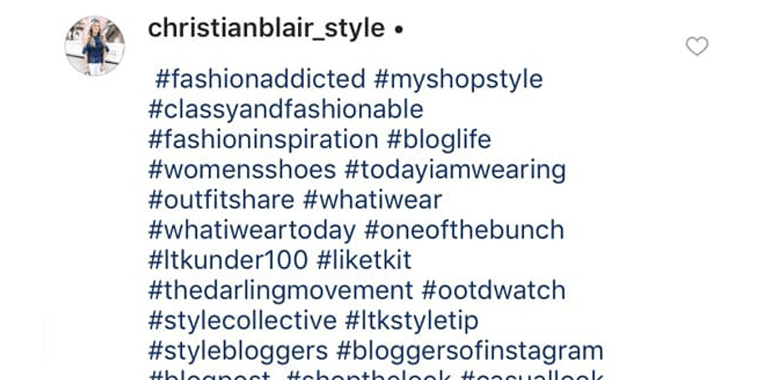 Hashtags are amongst the main techniques of Instagram for classifying and filtering content. Instagram is a customized platform for using hashtags with the users utilizing almost 20 to 30 hashtags in a single post. Hashtags usage can help you sink or swim and grow Instagram followers based on how you incorporate them into your Instagram marketing strategy.
Wrong use of hashtags can disappoint the Instagram algorithm and can even drive away your followers. On the other hand, using them right helps increase your brand visibility along with genuine followers.
Hashtags assist in widening the reach of your posts and the posts with hashtags get around 12% more engagement as compared to otherwise. The effective way to use hashtags is to use relevant hashtags and not use irrelevant hashtags. Otherwise, you will end up spamming your Instagram. To help you nail your Instagram hashtag strategy to get more followers. The most efficacious tips are given below.
1) Search and use the Popular Hashtags: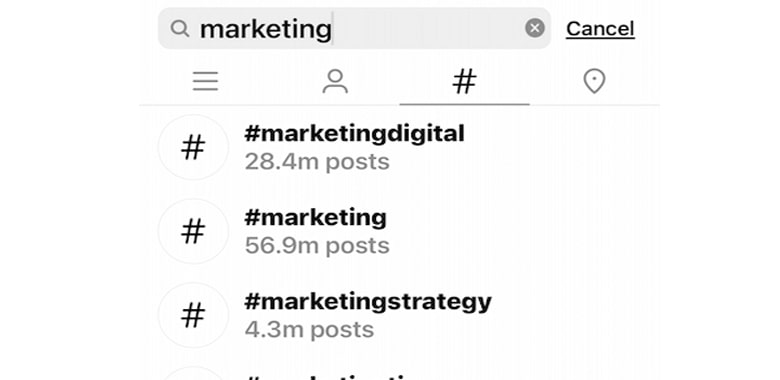 It is easy to find hashtags related to a specific post. However, do not use the hashtags that have already been extensively used, instead go for the popular use only a reasonable number of times. Users search for specific hashtags. And if you can get the hashtags right, your posts will end up in their search results. Instagram enables its users to follow specific hashtags based on their interests, and using such hashtags in your posts can help increase their reach among the people using the same type of hashtags. The users who come to your post through hashtags may also follow you if they like your content or product. However, you can use an irrelevant hashtag in the hopes to get more engagement or followers. For instance, a hashtag like #fitness can only be used when posting workout or health-related photos, and not to promote a beauty product.
2) Use Hashtags in the Caption to get more Impressions: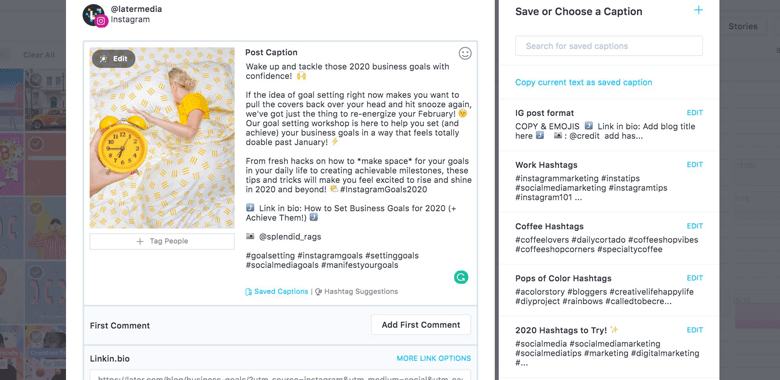 Regardless of your current number of followers and organic reach, adding hashtags in the caption is likely to get more impressions on the hashtags used and help you grow Instagram followers. If you are using hashtags in your posts to get more engagement and don't know which hashtags are bringing more traffic, then you can check it.
You have to go to the post with hashtags, click the 'promote' button on the right side, then further select the 'create promotion' option. After doing this, go back to your home page and on the post you just promoted. On that post, see 'promotion insights,' and scrolling down further click on 'impressions from hashtags.' This way you can see the impressions on each of your hashtags, and use the hashtags with more impressions to expand your Instagram reach and gain more followers.
3) Place Hashtags in Bio and Instagram Stories: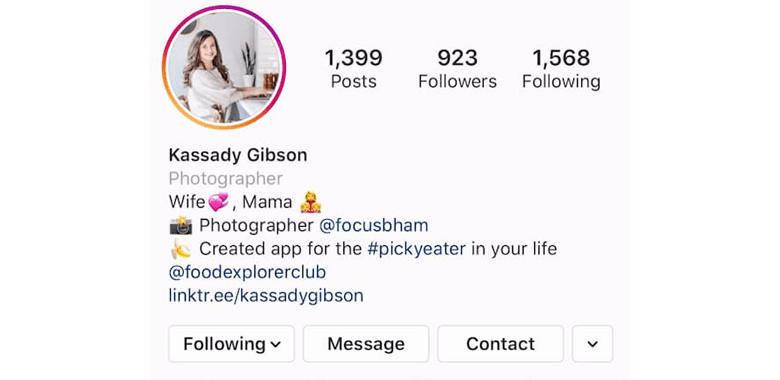 Instagram now allows placing clickable hashtags in your Instagram bio. You can utilize this option to create a custom hashtag specific to your brand and link the unique hashtag to all the posts you wish. This also means you can click on relevant hashtags, for instance, if you are a beauty influencer, you can incorporate relatable hashtags in your bio that are related to your product or services. It is an excellent option for influencers to market their brands to clients by linking specific hashtags to their bio.
Also, Instagram stories are one of the best Instagram to be utilized to gain a massive Instagram following. Adding hashtags in your stories will help the audience discover them and it will help also deliver the message since the relevant hashtags give them an idea of what the post is about. Your Instagram stories will end up their searches if you use the relevant hashtag, this way your brand will get more reach and followers.
4) Know the Right Number of Hashtags: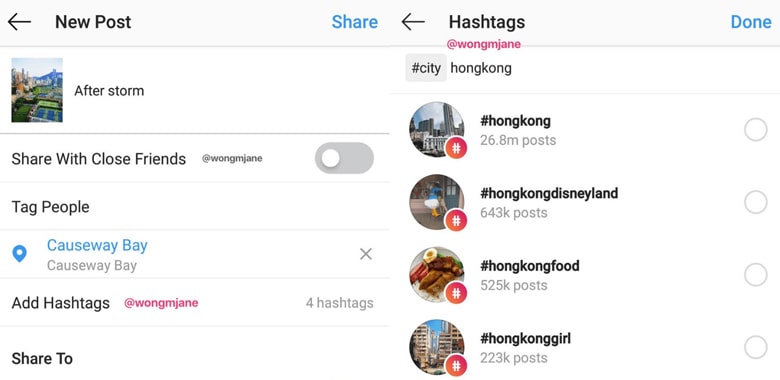 There is no limit to the number of hashtags you can add to grow Instagram followers, but most brands do not exceed the 30 hashtags limit in their posts. However, adding a lot of hashtags is not a way to do it, especially using irrelevant hashtags. There is no trick or ideal number when it comes to the right number of hashtags to be used. Using a hashtag in the first comment is another great trick to get more followers, but also in the comment, only 1 or 2 hashtags are used. But the brand sticking to the hashtag is not the secret formula for Instagram success as there is always room for experimenting. It is better to try varied hashtags with different numbers to find your ideal hashtag formula. Keep your Instagram strategy in mind but also be willing enough to take a step further and experiment with the hashtag numbers.
5) Hide the Hashtags in the Caption: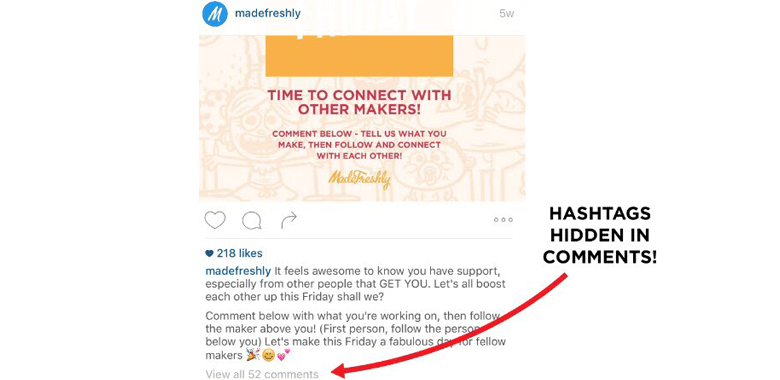 To make your post appear elegant and less spammy, hiding them is the best option. Hiding them also places the attention on the post and not the hashtags, which is essential if you want to impact your users with amazing captions and increase your brand reach. For hiding the hashtags, you just have to leave enough space between caption and hashtags so that the users can see them only when they click the 'more' option. You can also use this trick for your first comment.
To do this, first, add your caption, then press 'return', type a dot, and then again press 'return'. Repeat this step until you place 4-5 dots between the caption and the hashtags. You can also add conversational hashtags and hide the rest of the hashtags to make your post not look spammy.
Concluding Remarks:
Getting more Instagram followers and boosting engagement on your posts is not a cushy job. The above tips are extremely useful for most types of brands or influencers. Effectively using hashtags and finding your ideal hashtag strategy goes a long way in helping you grow Instagram followers, get the desired engagement and Instagram success. Do not follow rules and keep on experimenting, use Instagram Insights and analytics to find out what works best in your case.